About the Greater Jefferson Community Center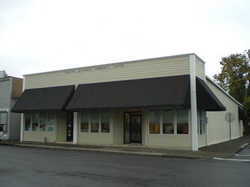 Since opening in 2006, the Greater Jefferson Community Center has become a landmark in the community as a place where people of all ages can come to learn, grow, and have fun. Thanks to grants totaling over $125,000, the Community Center has received a new roof, new flooring, a new furnace, heat pump, window shades, and awnings, and equipment.The Greater Jefferson Community Center is a non-profit organization that is generously supported by our community through donations and participation in fundraisers. Thank you!

The Community Center is open Monday through Friday from 10:00am to 4:00pm.

The Community Center offers a wide range of activities throughout the year, including exercise classes, senior potlucks, weekly Pinochle groups, indoor play park for kids 0-5, contests (poetry writing, pie baking, jigsaw puzzle, and more), classes, workshops, special events, and holiday celebrations.

The Community Center also provides a meeting place for: Jefferson Lions Club, Friends of the Jefferson Library, Woman's Club, 4-H, Boy Scouts, Girl Scouts, scrapbookers, library programs, community classes, and many other community organizations!

---
Want to Get Involved?

It's no secret--community supported, non-profit organizations rely on donations, not only to exist, but to thrive. Your donation is tax deductible, and, because we are entirely volunteer-run, 100% of your contribution will go toward programs for the community and the sustained longevity of the Greater Jefferson Community Center. You can mail a check to GJCC at PO Box 355, Jefferson, OR, 97352, or bring it into Sterling Bank on Main St. in Jefferson.
If you would like to support the Community Center monthly through automatic bank withdrawals,
contact us
for a form.
We would also love to have you volunteer! You can commit to as little or as much as you want. Serve 2 hours a month or 20 hours a month. We have openings for volunteer receptionists (3 hours per week) as well as an open board member position (1 hour per month). We would also love to have you help with maintenance and/or upkeep on the Center. Just let us know what your skills and talents are and we'll get you plugged in!
History of the Greater Jefferson Community Center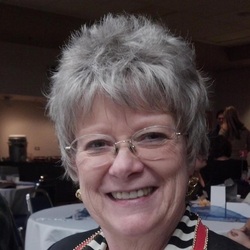 The Story

The Greater Jefferson Community Center was born in the heart of Karen Wells in the 1980s. Nothing was done about the dream until 2000 when she wrote the dream down in a Vision Statement. Once again she filed it away for another two years.

In 2002 she took the first step to bring the dream into being. She picked 19 friends, movers & shakers, and others to begin coming together to start talking about building a Community Center in Jefferson, Oregon. The group met every month for two years, putting together their Mission Statement, Vision, and Goals. They visited other centers and started touring the available buildings in Jefferson, a small, older city with limited infrastructure. It was fast becoming a bedroom town for Salem, the State capitol, and Albany.

In April, 2004, a local church building that was no longer being used as a church was offered to them rent free for use as a community center until the building sold. They moved in with only 16 tables and 128 chairs and set up shop. To make a long story short, they quickly became a vibrant and active Community Center. The community of Jefferson and the surrounding areas were supportive and generous, contributing the finances, furniture and time to meet any needs that arose. At this time the group came under the umbrella of Jefferson Together!, a local progress team, and a non-profit 501(c)(3) entity.

In August of 2005, after sixteen months of having an active community center, the building was sold and the community center had to move out. Most supplies went into storage on the Wells' farm and members began raising money in earnest for the purchase and/or building of their own community center building.

A local businessman who had a furniture store, Don Shindler, came to the group in November, 2005, and offered to sell them his 58'x120' property in downtown Jefferson, close to the bank, post office, and grocery stores. It was also at this time that the group, now officially the Greater Jefferson Community Center (GJCC), moved out from under the umbrella of the Jefferson Together! and became their own non-profit 501(c)(3) entity.

The GJCC purchased the property in November 2005, moved into the old building the last week of December 2005. The building, in much need of repair, was condemned in March 2006 and, after seven months of hard work by committed local volunteers, the GJCC once again opened to the community on September 23, 2006.

In November 2008 we applied for and received a permit to push out more walls and add a much needed kitchen and smaller meeting room. In 2009 we received $43,000.00 in grants to help us install a new furnace, a heat pump, awnings for the outside of our building, window shades and a new roof. Those grants came from Ford Family Foundation, Meyer Memorial Trust, and the Marion County Economic Development Advisory Board. In February 2010, we received a $35,024.00 grant for new flooring, this one coming from Spirit Mountain Community Fund. Since then our facility useage has almost doubled. In 2009 we had over 8,000 visitors sign in. In 2010, we had over 15,000 visitors sign in; in 2011, over 12,000 sign-ins.

We have become a landmark in the community structure and a safe and comfortable place where peoples of all ages can come. Each day is full of activities for everyone. We truly have become the community gathering place.


---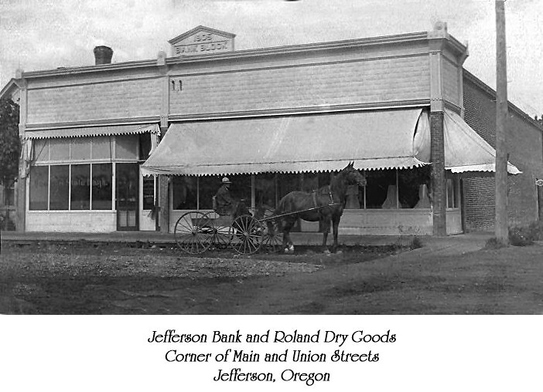 Above: Community Center building circa 1910


DON'S STORY
as written by Naomi Villmann
Jan. 2006
Many of us look forward to the beginnings in life. We celebrate in the upcoming year.. Fewer of us take stock of the old year and perhaps a minority mourn the passing of what has been in that year. The reason for this - endings are sad, something is lost. However if life teaches us nothing else, the lesson that continues to be whispered in the breeze and yelled from the mountain top is that without endings we cannot ever hope to have beginnings.

This New Year let us celebrate a new beginning given out of ending with selfless motives to keep a promise made years ago. The City of Jefferson can look forward to a new community center thanks to Don Shindler. Mr. Shindler, who in mourning the passing of his beloved wife, Phyllis, of 50 years, remembered his promise to Karen Wells to hold the building he owned at 107 N. Main should he be ready to sell. When asked why now, he said, "I just figured it was a good time, besides I'm knocking on 80 years." In selling the building Mr. Shindler made a financial arrangement with Wells and her committee that some felt was too good to be true. When asked about this Shindler smiled and said "I told Karen I would hold it for her. My word is more important than money."

Shindler also believes in the importance of having a place where families can spend time together. "You can't push the teens off somewhere," he states, "kids and adults need to meet together to share experiences." Shindler even plans to spend some of his time volunteering at the Community Center. That is the beginning, but in order to truly appreciate this gift that has been given, perhaps we too need to mourn the past or at least have an understanding of it. Truly a story that needs to be shared, is how the beginning of our new Community Center comes out of an ending for Mr. Shindler. A love that spanned 50 years.

As a young man, Shindler's favorite pastime was dancing. "We used to go out to the Cottonwoods Ballroom" he fondly remembers. "They had all the big bands. It was so crowded that people had to stand outside." Shindler then goes on to recall the events that led up to his meeting the woman who was to become his wife. He and a buddy were headed to the Cottonwoods and Shindler distinctly remembers telling his friend that he was never getting married. When they arrived he saw this gal standing by the wall, and within moments had forgotten his earlier declaration, now stating to that same buddy "There is the girl I am going to marry!" Shindler and Phyllis danced the night away, and at the end of the evening he asked for her phone number.

However, like all fairy tales, we must have a complication, and this there was. Shindler attempted to call Phyllis, but found that he did not have the right number. When asked if he tried to find her, he said all he knew about her was that she lived in Salem.

A year passed. Shindler was once again headed out for an evening of dancing, but this time in Aumsville. Who should be there? Of course it was Phyllis! Three weeks later on Thanksgiving the couple called the Justice of the Peace at his home, (who just happened to be State Representative Lane Shetterly's father) he rustled up a couple of elderly ladies to act as witnesses and well you can guess the rest.

Phyllis spent most of her life working right along side of her husband and many of those years at the facility that is now the Community Center's new location. About 10 years ago she became ill. At the end of this story, Phyllis underwent an operation that promised to relieve years of pain, but it was risky. A risk worth taking for both Shindlers. Initially it seemed that Phyllis had come through as she awoke the morning after without pain. For Shindler those were precious hours as they would be her last. Her lung collapsed and she was taken from this life shortly after.

So you see there is an ending to be mourned in the loss of Phyllis, but more than that a love to be remembered for a lifetime and a beginning of a community center that, God willing, will outlast all of us.